A coffee break with Senior Conference Coordinator Siobhan Bahn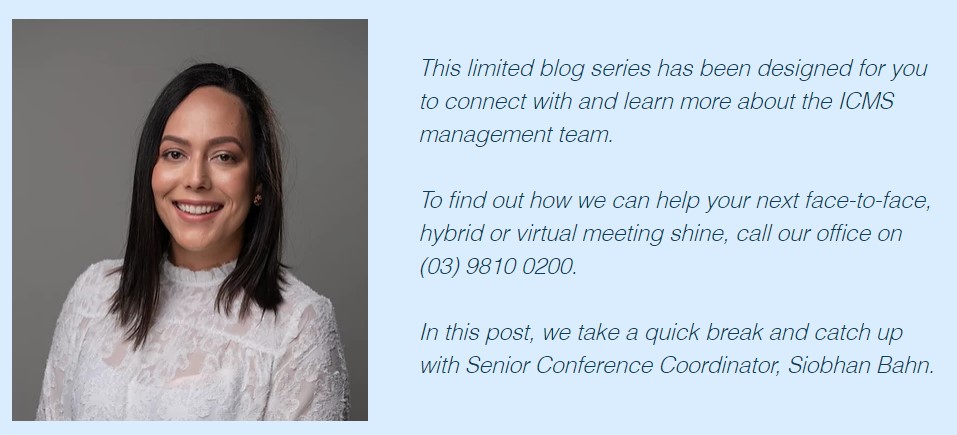 Let's start with a coffee.
A flat white for me please!
What's on the agenda for work today?
Well, some days are full of meetings, others are full of emails, and others are full of spreadsheets. I've tried to structure my day and I've got a list of tasks to get done, but you know what they say about best-laid plans...
Run me through your ICMS history.
I've been with the company for almost five years, working as a Conference Coordinator and then moving up to a more senior role now. This is my first full time events job. I have a journalism degree and previously worked as a reporter, copywriter and in PR. Through those positions, I got a job as an assistant for an ethics conference being held at UQ in Brisbane, which gave me a taste of events – and I haven't looked back!
What's been your favourite part of joining the industry?
I love the variety of people I get to meet and work with. In a single day I could talk to a surgeon, a philosopher and a farmer, it's brilliant and I can't think of many other careers where you would get to do that. I also love being on-site and seeing an event come together. It's an ever-evolving industry but also one that I believe will be around forever. Subject matter, associations, organisations and other industries may shift or change, but the desire to connect and share knowledge will always be there, and therefore so will events!
How would you describe the value of a PCO for an association or business wanting to stage an event?
As a PCO, events are what we do and what we are passionate about. So why not bring in people who are truly passionate about the event experience to not only make your life easier, but also bring a whole range of ideas and expertise to your meeting.
Okay, let's put work aside. You're from Brisbane, do you have a travel secret to share?
A facial mist spray to combat skin drying in the air and always have a change of clothes in your carry-on for overseas trips. I got that last tip from our CEO, Sarah!
What do you get up to when you're out of the office?
I absolutely love the beach, although Melbourne isn't quite the best place for that! It is the best place for one of my other favourite pastimes though – exploring restaurants and bars. I also play golf and love going to live shows.
What about when you've been in lockdown?
My friends Stan and Netflix have been getting me through. I've also been trying to improve my cooking abilities and exploring and playing with our new virtual event platform!
Speaking of... face-to-face, hybrid or virtual delivery, you have to choose!
While my heart will always lie with face-to-face because I love the buzz and the on-site experience as an organiser, the innovation and new possibilities coming in the virtual events space are so exciting and I think hybrid will be the way of the future.
Finally, tell me what you love most about ICMS.
My fellow ICMS family, of course!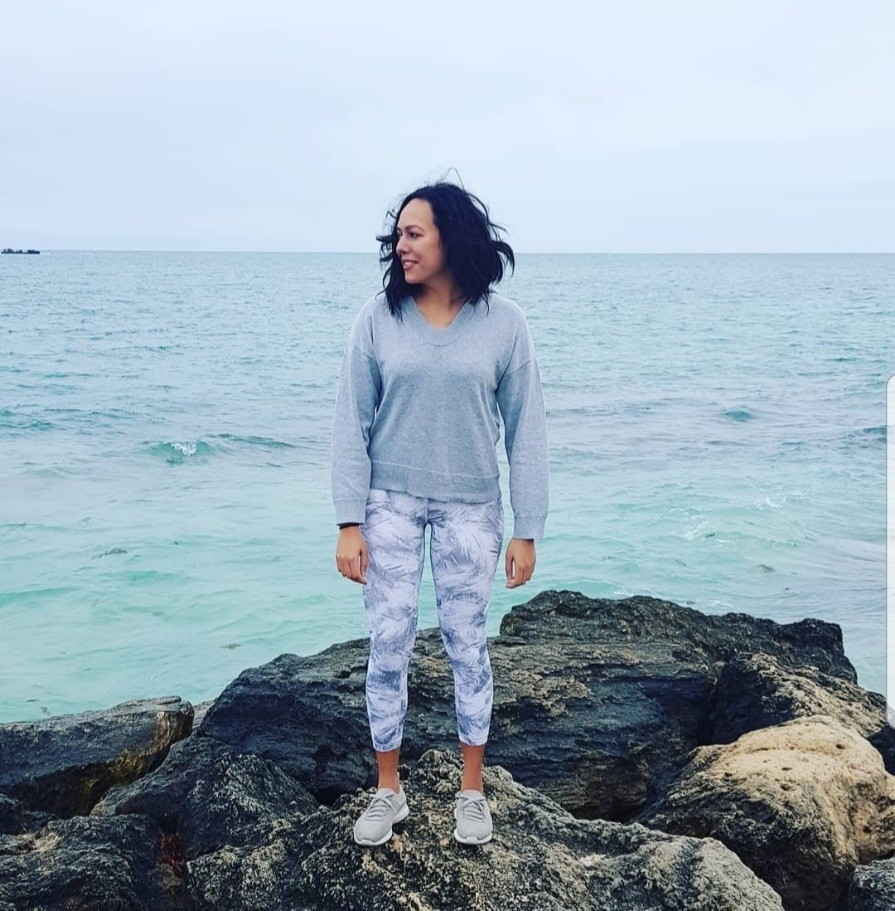 Image: Siobhan finding some downtime in between conference prep on-site in Perth. Used with permission.