A coffee break with Finance Manager Abigail Krause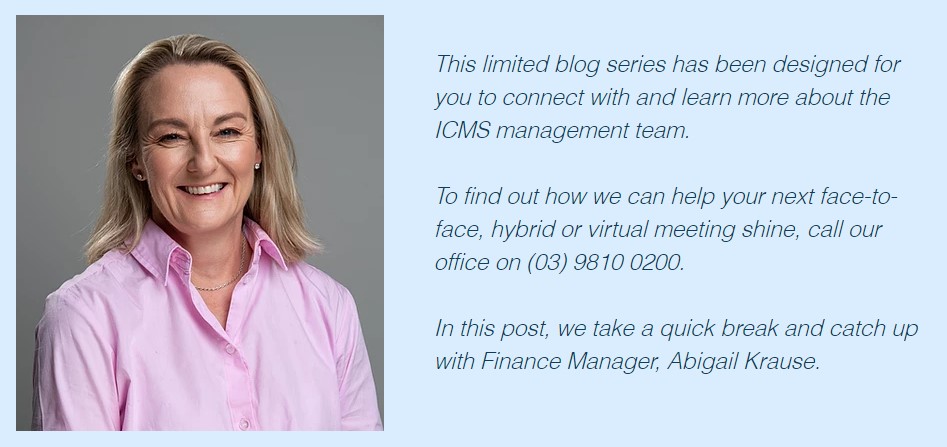 First up, coffee. What are you having?
My standard – a strong skinny latte!
Let's get stuck in. How long have you been with ICMS?
All up, it's been 26 years on and off. I obtained my Arts degree from Monash University and originally started working at ICMS part-time as I figured out what I really wanted to do with my career. It was the time of large-scale mega conferences, where we would have 10,000 delegates coming to town. We would all team together and work ridiculous hours. There were loads of laughs and huge learning curves. I just ended up loving it and staying! I've since occupied every seat of the ICMS production, with my current position being Finance Manager.
Walk me through your typical day in the office.
Well it's always a coffee – or two – first. Then lots of planning and implementing, a quick lunch break and maybe a meeting, and then I get stuck right back into it again.
What about outside of work?
Running, yoga and cooking is always incorporated somehow. I have been trying my best at mindfulness too, which I do through Emma Murray's (@em.murrary.1) Instagram series called Mindfulness Monday. We all need some greater focus and clarity, now more than ever, and this is helping me find it.
On that matter, what's been getting you through the pandemic?
Loads of laughter! Gin tastings, spending time with my family, exercise and most of all, learning from my incredible group of friends that I have met through all walks of life. Although, I am still advertising for more as I love to meet new people! I also have my beautiful boxer puppy Murphy, who makes me smile every morning. He is always happy when I wake him up – unlike the kids!
Can you share a travel secret with us?
When it comes to international adventures, I always opt to fly at night so I don't waste a second of my trip!
Let's get back to ICMS. What do you love most about the job?
The people I work with. We are a close team and complement each other's skill set really well. We also have a great client group that makes doing our job a pleasure.
And the events industry in general?
It is always evolving and challenging us to adapt and think differently, which is a very rewarding experience.
Face-to-face, hybrid or virtual. What's your poison?
All and more! Any time people come together for the purpose of learning can only deliver great results.
Lucky last. Why does an event need a PCO?
It's all about our expertise and knowledge on how events work. Many clients get scared to shake things up as they don't want to rock the boat, and we totally get that. A good event organiser will open up innovative and engaging pathways while keeping the finances in check, and offer expert guidance on delivering a product that delegates will truly believe is value for money.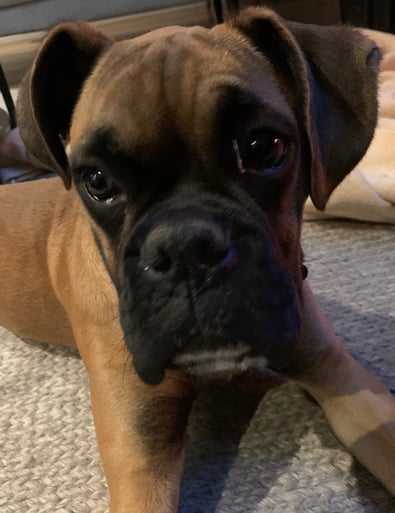 Image: Murphy is the perfect at-home office companion! Used with permission.