A coffee break with CEO Sarah Markey-Hamm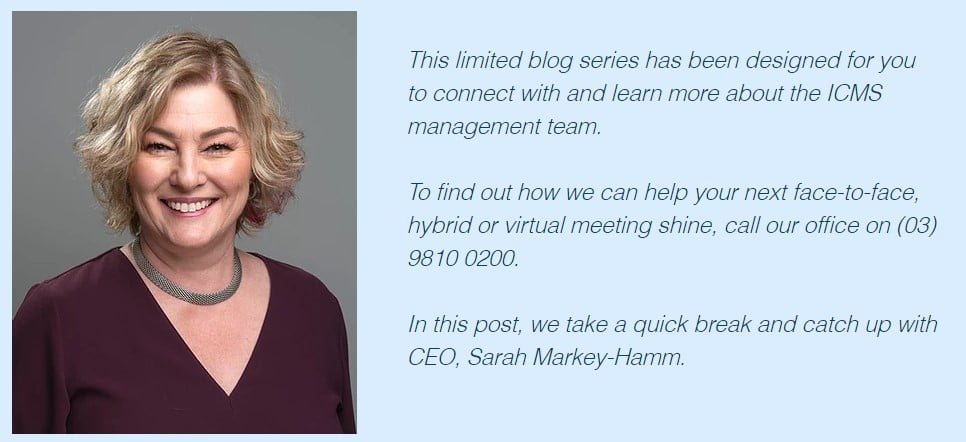 Let's start with a coffee, what are you having?
A long black!
What's in store for you today?
There really is no such thing as a typical day when you work in a service business! I have a plan to do certain tasks for our clients but something can change and I'll need to reprioritise the day.
Tell me a bit about your involvement with ICMS.
Well, I'm CEO. I've been in the business full time for 27 years, but it's been part of my life for the past 50! My dad Barrie founded ICMS and now I work with my sister Abi, who's in charge of our finances. I started stuffing envelopes and putting mailing stickers on envelopes when I was about 10, and then I was allowed to start opening letters and answering the phones. I remained as a casual with ICMS while working the rounds at the Grand Hyatt as I completed my Hotel Management Diploma, and then came back as a full-time Conference Coordinator. The rest, they say, is history!
You have great insight into the industry. Tell me, what's the real value of a PCO?
We have the knowledge and the contacts to be able to bring together the best in the business to ensure that our clients and their delegates achieve their goals for their events. Besides that, we do all the commoditised jobs associated with running an event such as managing the registrations and the enquiries so that our clients can concentrate on their day jobs!
Quick! Face-to-face, hybrid or virtual meetings?
Face to face would be my preference. However with updated technology, hybrid and virtual can also give you a great interactive experience.
Now for the good stuff. What's your biggest travel hack?
Always pack your pillow – a good night's sleep is essential!
What's on the cards for the weekend?
I'm always baking, exercising and watching AFL.
And your favourite thing about working at ICMS?
Getting to learn about so many different industries and meeting some fantastic people, both as clients, supplier partners and our team!
Last but not least, your one takeaway from the events industry?
It never gets boring!