A virtual event is more than a webinar!
Virtual events are an exciting prospect for our industry. Carving a space in the online arena to facilitate global communication, innovation and engagement is rewarding for all parties involved. Not only do delegates get to continue their professional learning in a time of significant disruption, conference organisers have been able to steady their businesses on the back of this new delivery platform – it is a saving grace in our post-pandemic world.
Not only do virtual events create powerful legacies and extend the life of a face-to-face meeting, they eliminate traditional costs that can become burdensome for clients. Accommodation, catering, travel and all the other standard inclusions once considered fixed in the events world, are done away with in the move online.
But while just about anyone using the internet can set up a Zoom meeting or hang out on Microsoft Teams, virtual events go far beyond a webinar. Juggling hundreds and even thousands of delegates, creating inventive programs that translate online, gathering wide industry support and managing the possibility of technological glitches is a task that clearly requires the expertise and professional experience of conference organisers to manage.
This realisation couldn't have come at a better moment for those in our field. The current pandemic has caused an abundance of cancellations, postponements and alterations. We've had to manage border closures, restricted movement and limited gatherings. Essential ingredients for staging our much-loved in-person events have been hijacked.
Event organisers across the world have had to reconceptualise their offering. Here at ICMS, we've spent the past few months completing new training, imagining new goals and exploring new options, all while keeping our clients at the centre of our thinking and practice. The result is the creation of ICMSconnect, our virtual events platform supported by industry software On AIR. And it's already been taken up by several clients, new and old.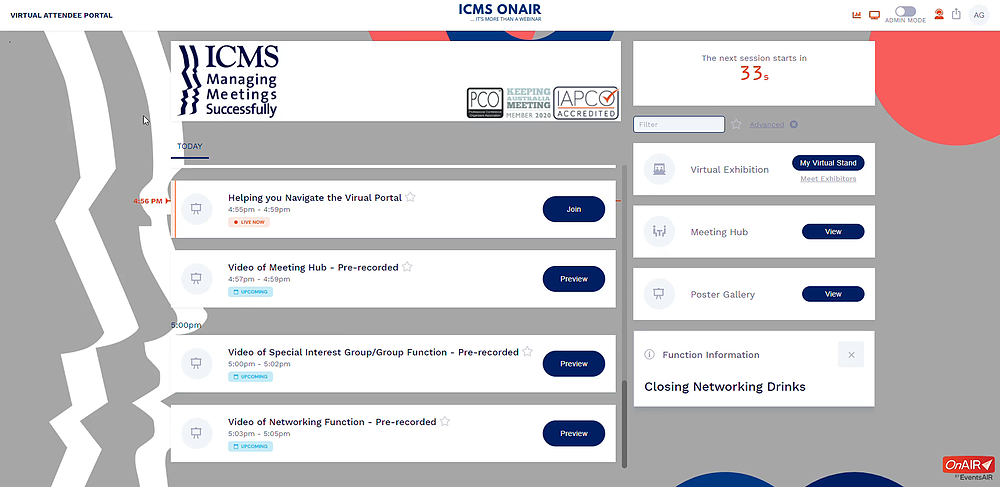 Image:
We're excited to launch our brand new virtual events platform, ICMSconnect. Used with permission.
The delegate experience
Delegates are the lifeblood of our industry and their participation in virtual events should be more than just staring at a screen. Unlike a webinar where interactions are often one-sided, virtual events include a range of engaging attributes that will leave a long-lasting positive impression on your attendees. For example, ICMSconnect hosts regular networking functions, where participants can interact in small pre-determined groups to discuss set topics, breaking up the tiresome format of one presenter speaking after the next. Our platform also includes a virtual conference support and information desk, enabling delegates to access a fully-briefed registration team in real time, for any concerns or questions they may have.
The optimal program
Virtual events are not simply a relocation of a face-to-face meeting. Creating a thought-provoking and innovative program to entice delegates is made more complex online. The perfect balance must be struck between engaging and informing participants, while always keeping their attention focused on the screen. Event organisers are able to build on their extensive expertise to offer the best design for your virtual meeting. Diversity is key to holding concentration and ICMSconnect supports a range of session types and lengths including plenaries, interview style live-streams, Q&A panels and even ePoster presentations.

Image:
ICMSconnect supports a wide range of session types, from ePosters to Q&As. Used with permission.
The sponsor and exhibitor offer
Gathering industry support for your virtual event will elevate its status beyond another webinar, as well as increase its reach and legacy in the field. A sound marketing strategy developed by conference organisers will help position your event as a leading competitor, attracting vital sponsor and exhibitor interest and funding.
Through ICMSconnect, your exhibitors are set up in a virtual hall which mimics that of a physical meeting. Attendees can view exhibitor information and engage in instant meetings of their choosing. Sponsorship can also be incorporated throughout virtual events, from logos on individual sessions to downloadable brochures and advertisements. This sophisticated software certainly goes beyond the confines of common online platforms such as Zoom or GoToMeeting.
The financial cost
While some fees are reduced or eliminated completely in the transition online, the overall costs required for virtual events to achieve desired outcomes will often be larger than anticipated. This is mostly thanks to virtual events being multi-faceted and involving the most advanced and integrated software to run smoothly. An event organiser like ICMS can tailor a budget to directly suit your needs and can use their pool of resources and connections to secure the best deals possible, a critical outcome for many clients, particularly in the aftermath of the pandemic.
What becomes clear is that professionally curated and presented virtual and hybrid events provide a far more robust, advanced and modern experience than a simple webinar. And while clients can go at it alone, partnering with an event organiser will ultimately ensure the best position possible to stage a financially-sound, engaging and rewarding virtual event.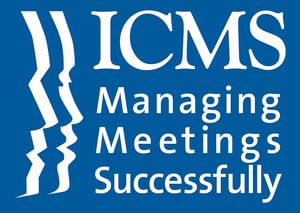 ICMS can help with a little or a lot of your conferencing requirements. Give our CEO Sarah Markey-Hamm a call on 03 9810 0220 or email success@icms.com.au to discuss more about how we can assist with your next face-to-face, hybrid or virtual event.